Become a Planet Nutrition Franchisee
Do you want to be your own Boss?
Do you want to make money even when you are not physically working?
Would you rather join a proven system than figure it out yourself?
Do you believe that being part of something bigger than yourself is worthwhile?
If you answered YES to these questions, Franchise Ownership is definitely an option you should consider.
Meet Colby
Coby and Tiffany Harrington opened Planet Nutrition in Abbeville back in 2015. They started with only two employees and now have expanded to four locations in three different parishes with now twenty employees. Each location has a very knowledgeable and friendly staff. We do our best to hire local people so that customers feel welcome when they see familiar faces.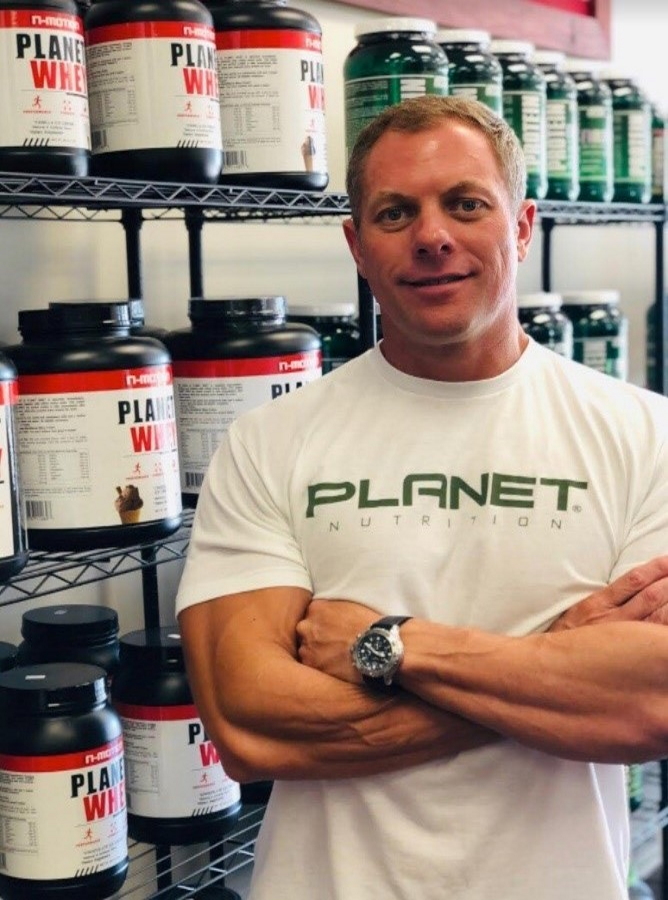 Our ever-growing franchise has many locations throughout the South. Find the Planet Nutrition most convenient for you! Click the Google Maps button below your preferred location for a detailed map view. Want to apply for a franchise?
4660 Johnston Street
4660 Johnston St Lafayette, LA 70503 Phone: (337) 406-2348 Hours of Operation: Monday-Thursday 7-9 Friday 7-8 Saturday 8-6 Sunday 11-6
2127 Kaliste Saloom Rd
2127 Kaliste Saloom Rd Lafayette, LA 70508 Phone: (337) 504-2576 Hours of Operation: Monday-Thursday 7-8 Friday 7-7 Saturday 9-5 Sunday 11-4
219 St. Nazaire Rd
219 St. Nazaire Rd Suite A Broussard, LA 70518 Phone: (337) 330-8450 Hours of Operation: Monday-Thursday 7-8 Friday 7-7 Saturday & Sunday 9-4
Sulphur
341 N. Cities Service Hwy Sulphur, LA 70663 Phone: (337)-533-8911 Hours of Operation: Monday-Friday 9-8 Saturday 9-7 Sunday 12-6
Lake Charles - Ryan Street
3814 Ryan St Ste 300 Lake Charles, LA 70601
Phone: (337)-419-1801
Hours of Operation:
Monday-Friday 8-8
Saturday 10-7
Sunday 12-6
Lake Charles - Nelson Road
4459 Nelson Rd. Suite 110 Lake Charles, LA Phone: (337)-602-6398 Hours of Operation: Monday-Friday 8-8 Saturday 9-6 Sunday CLOSED
New Iberia
616 S. Lewis St New Iberia, LA 70560
Phone: (337)-492-5000
Hours of Operation:
Monday-Friday 7-7
Saturday & Sunday 9-4
Crowley
1823 North Parkerson Ave. Suite H Crowley, LA 70526 Phone: (337)-250-4297 Hours of Operation: Monday-Friday 7-8 Saturday 9-5 Sunday 11-4
Abbeville
100 Broadmoore Blvd, Ste 1 Abbeville, LA 70510 Phone: (337)-893-3007 Hours of Operation: Monday-Thursday 7-8 Friday 7-7 Saturday 8-4 Sunday 9-4
De Ridder
1039 North Pine St Deridder, LA 70634 Phone: (337)-221-3031 Hours of Operation: Monday-Friday 7-8 Saturday 9-6 Sunday CLOSED
Baton Rouge
9065 Perkins Rd. Ste D Baton Rouge, LA Phone: (225)-223-6878 Hours Of Operation: Monday-Thursday 7-8 Friday 7-7 Saturday & Sunday 9-6
Youngsville
1700 Chemin Metairie Pkwy #601 Youngsville, LA 70592 Phone: (337)-857-5338 Hours of Operation: Monday-Thursday 7-8 Friday 7-7 Saturday 8-6 Sunday 11-3
Hattiesburg, MS
4600 Hardy Street Unit 5 Hattiesburg, MS 39402 Phone: (769)-223-6452 Hours of Operation: Monday-Thursday 7-8 Friday 7-7 Saturday 9-6 Sunday 11-5
Petal, MS
922 Hwy. 42 Petal, MS 39465 Phone: (601)-602-6788 Hours of Operation: Monday-Thursday 7-9 Friday 7-7 Saturday 9-7 Sunday 11-5
Breaux Bridge, LA
1880 Rees St #101 Breaux Bridge, LA 70517
Phone: (337) 442-1950
Hours of Operation:
Monday-Thursday 7-8
Friday 7-7
Saturday & Sunday 9-4
Trussville, AL
7274 Gadsden Hwy, Suite 108 Trussville, AL 35173 Phone: (337)-406-2348 Hours of Operation: TBD
Eunice, LA
1516 Hwy 190 East, Suite A
Eunice, LA  70535
Phone: (337)-466-3755
Hours of Operation:
Monday-Friday 7-8 Saturday 9-5 Sunday 11-4
Alexandria, LA
6503 Coliseum Blvd, Suite D Alexandria, LA 71303 Phone: (318)-528-1874 Hours of Operation: Monday-Friday 7-8 Saturday & Sunday 9-4
Carencro, LA
3900 NE Evangeline Thruway
Carencro, LA  70520
Phone: (337)-565-4362
Hours of Operation:
Monday-Friday 7-7 Saturday 9-5 Sunday 10-4
New Locations Coming Soon
Westlake, LA
Houma, LA
Baton Rouge, LA
Ruston, LA
Mandeville, LA
Woodlands, TX